Kara Walker takes an intellectual and passionate approach to challenging subjects using various forms, including silhouette, sculpture, painting, print-making, installation, puppets and film. Walker explores the concepts of identity, race and gender in her work, often bringing together multiple themes, which resonate within each piece.
Walker's work explores the power struggles, histories and mythologies that inform our perception of ourselves and each other. Delving candidly and unapologetically into the subjects of slavery, racism, violence and misogyny, Walker implores the viewer to ask how our identities and our perception of them, shape our culture, our relationships and our place within the world.
Fons Americanus | Exhibition at the Tate Modern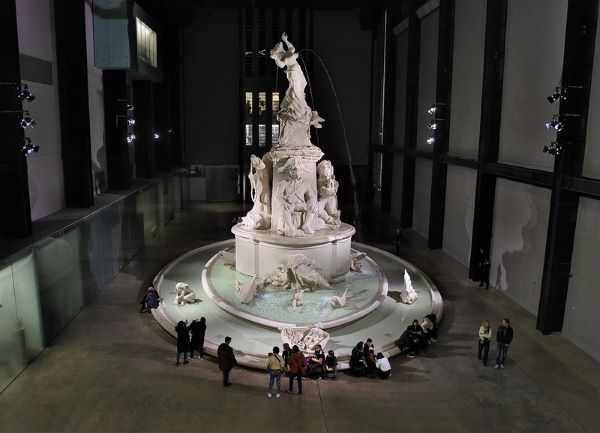 Walker's Fons Americanus is currently on display at the Tate Modern in London, until the 8th November 2020. Her work is a fusion piece about slavery, and is "an allegory of the black Atlantic which connects Africa to America and Europe and to economic prosperity".
The work takes it's influence from the Victoria Memorial, with walkers characters and caricatures emerging from the water to tell us their story. In this magnificent work, Walker creates a space for reflection amid racial, economic and cultural conflict.
Cut-Paper Silhouettes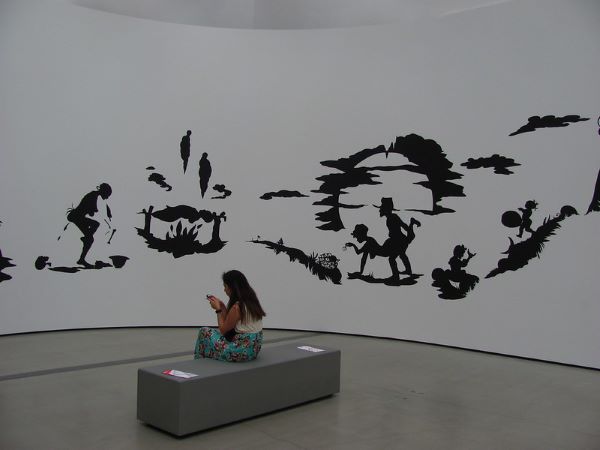 On a quest to understand her own identity as a black women, how her identity relates to history and to her art, Walker began developing her silhouette style. Eventually, creating black on white silhouettes that come together to form huge, breath-taking scenes exploring black history, racial stereotyping, violence and slavery.
Walker's silhouette pieces have stunned their viewers in exhibits across the US and in the UK over the last decade. Her 13 meter tall fountain exploring the transatlantic slave trade is currently being exhibited in the UK at the Tate Modern and can be seen there until November.
Books
Kara Walker – Dust Jackets for the Niggerati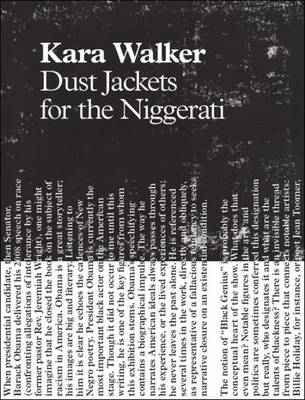 Dust Jackets for the Niggerati includes a series of graphite drawings and hand-printed texts by Walker that document her exploration of power and how it manifests in the lives of individuals.
This collection of provocative images conceptualises the themes of transition and migration running through the African-American experience.
*Find it at Waterstones for £40.00
BLOCK
Seeing the Unspeakable: The Art of Kara Walker
Seeing the Unspeakable: The Art of Kara Walker discusses the work of Walker, the controversies surrounding its themes of racism and Walker's use of re-imagined racial stereotypes.
The book provides context for Walker's work within the history of African American visual culture and and in relation to the work of contemporary artists including Faith Ringgold, Carrie Mae Weems, and Michael Ray Charles.
*Find it at Waterstones for £19.99
BLOCK

What the * Means
Links marked with an * are affiliated links, which help run Riot Room and keep it free to use. If you use our links to buy something, we may get a small commission or other benefit to the site. If you do want to buy any of the items, please use our links so that the site benefits.
Many Thanks.